#1YearAfterMaria
In September 2018, Power 4 Puerto Rico coalition members, fellow advocates, allies, and Hurricane Maria survivors from across the country attended coordinated events that honored the lives lost during and after Hurricane Maria made landfall in Puerto Rico and demanded justice for Puerto Rico.

We are grateful for everyone's hard work and dedication to remembering the loved ones who perished due to the federal government's neglect. Together, we called for a sustainable and just recovery, debt forgiveness and equity in funding for the Island we love.

But our work is not yet done. We will continue to demand accountability and justice for Puerto Rico. Join us.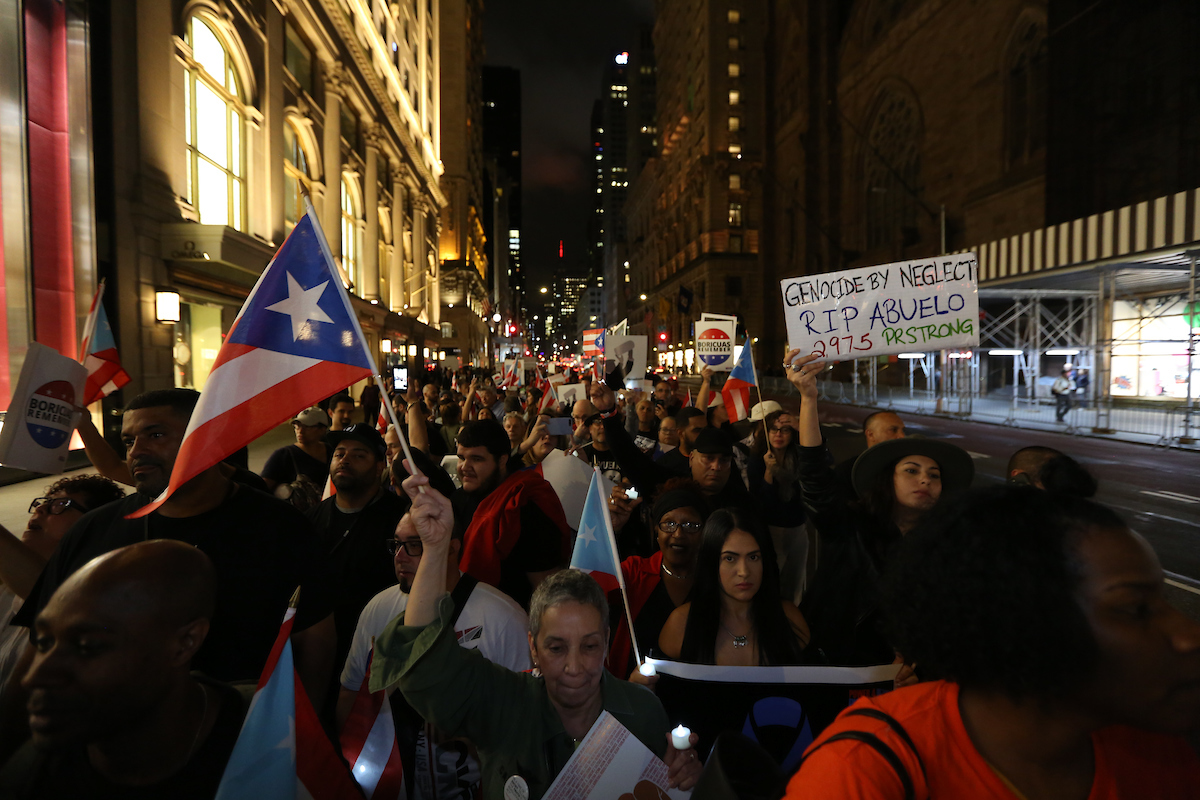 New York City: St. Bartholomew's Church to Trump Tower
We kicked off #1YearAfterMaria in New York City at St. Bart's Episcopal Church. Our partners, New York Disaster Interfaith Services, provided dinner for displaced families before the vigil to honor the loved ones we lost. We heard inspiring testimony from Maria survivors including Carlos Matos, who also worked to keep displaced university students enrolled in classes at New York University. Candidate Alexandria Ocasio-Cortez — whose lost her grandfather in Puerto Rico — was in attendance, along with approximately 20 interfaith clergy, NYC Council Speaker Corey Johnson, Public Advocate Letitia James and NYC Comptroller Scott Stringer.

After the vigil, which featured 2,975 candles to represent Maria's victims, we moved en masse to Trump Tower. See more images from the march in these featured articles in the New York Daily News, El Nuevo Día and ABC 7.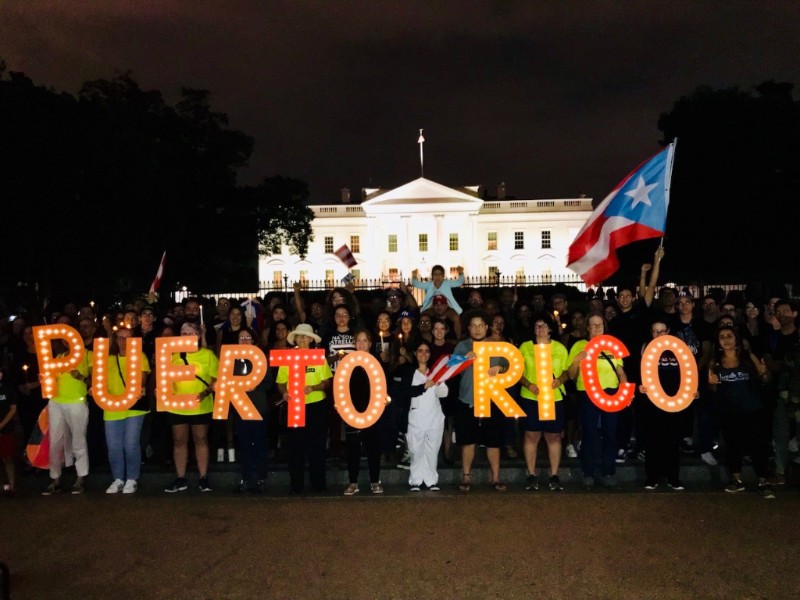 Washington, DC: The White House
In the nation's capital, hundreds of supporters gathered in front of the White House and sent one,clear message: President Trump failed Puerto Rico after Hurricane Maria. To help us send this message was DNC Chair Tom Perez, Jennice Fuentes, Founder and CEO, BoricuActivatEd, Jordan Haedtler, Campaign Manager, Center for Popular Democracy, Jaime Contreras, Vice President and Capital Area Director, 32BJ SEIU, Mary Cathryn Ricker, Executive Vice President, American Federation of Teachers, and Tatiana Matta, Candidate for California's 23rd Congressional District.


The vigil was preceded by a press conference earlier in the week. It featured Senators Kirsten Gillibrand and Robert Menendez, both of who have been staunch supporters of a just recovery for Puerto Rico and a 9/11-style investigative commission to look into what federal agencies did and did NOT do on the Island in the wake of Maria. Hear Senators Gillibrand and Menendez's remarks here.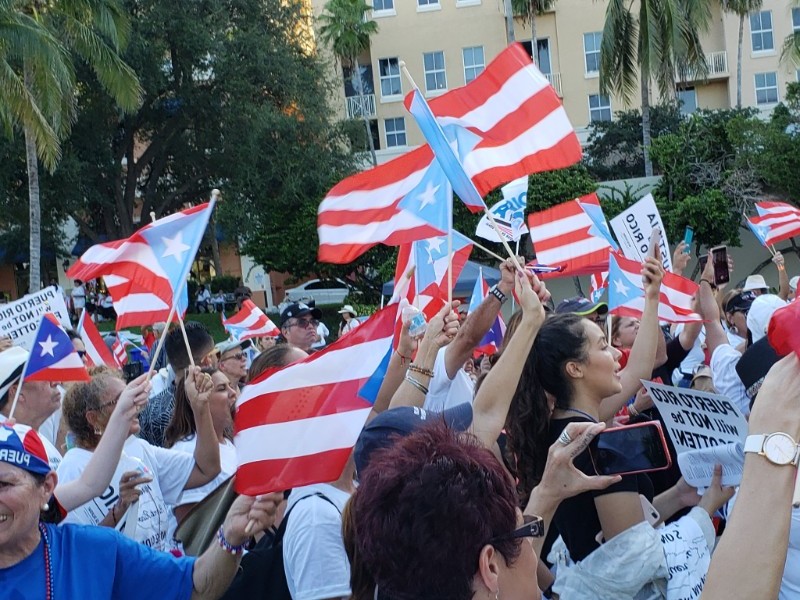 West Palm Beach, FL: Meyer Ampitheatre to Mar-a-Lago
Our remembrance week culminated in a day-long rally and vigil in West Palm Beach, Florida on Saturday, September 22nd. Mere feet away from Mar-a-Lago, hundreds of supporters showed up to honor the dead and demand justice from a neglectful President and a careless administration. We're thankful for the dedicated efforts of our partners, Alianza for Progress, and the electrifying presence of Luis Miranda Jr., Senator Bill Nelson, Mayor Andrew Gillum, renowned tropical artist Frankie Negrón, hip-hop pioneer SieteNueve, pop and jazz sensation Lunna, Danny Rivera, Jr., and Negro González, "El Artesano de la Impro," along with many others.

Take a look at these stories in The New York Times, Miami Herald and Huffington Post for more pictures from Saturday's events, from our massive midday caravan to our special balloon guest.
#Power4PuertoRico coordinates and promotes a series of mobilizations in communities across the country to call on leaders to ACT NOW on the humanitarian crisis in Puerto Rico. We will coordinate actions on the 20th of every month to commemorate the landfall of Hurricane Maria.
Upcoming Events
Submit an event to include on our calendar!
Fill out our form here -->
Past events
April 20th – 7 Month Anniversary of Hurricane Maria Action (coordinated)

March 20th – 6 Month Anniversary of Hurricane Maria Action (coordinated)

February 20th – 5 Month Anniversary of Hurricane Maria Action (coordinated)

January 20th – 4 Month Anniversary of Hurricane Maria Action (coordinated)

December 20th – 3 Month Anniversary of Hurricane Maria Action

November 20th – 2 Month Anniversary of Hurricane Maria Action

November 19th – The Unity March for Puerto Rico in Washington, DC at 10:00AM